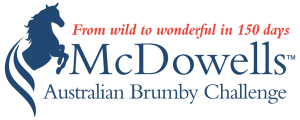 The McDowells Australian Brumby Challenge

The McDowells Australian Brumby Challenge was developed by the Victoria Brumby Association and launched at EQUITANA Melbourne in 2016. The Challenge follows the journey of 20 trainers as they transform untamed Brumbies passively captured from Victoria's high country, from wild to willing in 150 days. The Final is held across four days of EQUITANA, with trainers showcasing the transformation of their Brumby in front of the crowd and an expert panel of judges. 
There are two categories of the Challenge, Ridden and Youth. In the Ridden Challenge, Brumbies aged four and older are saddle trained. In the Youth Challenge, yearling aged Brumbies are trained and presented in hand only, not to be started under saddle or sat on.
The finale of the McDowells Australian Brumby Challenge will be held at EQUITANA Melbourne 2020. Over the four days of the event, you can come along, meet the Brumbies and their trainers and watch as the Brumbies are taken through their paces in several classes which are designed to showcase their trainers ability and the trainability and versatility of our Australian Brumbies.