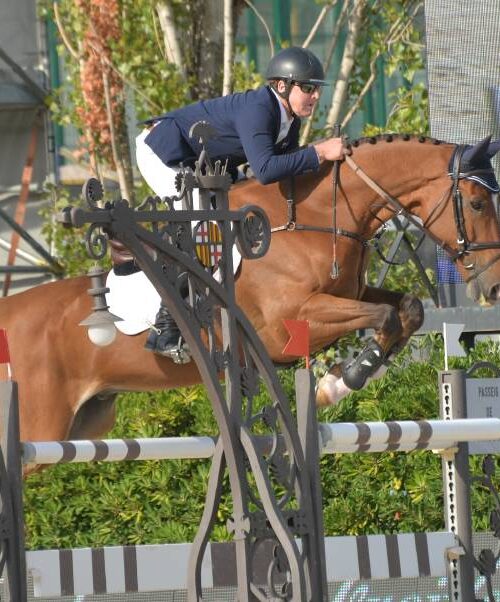 Scott Keach & James Paterson-Robinson
Training
Australian Scott Keach grew up riding horses around Goolwa and Victor Harbour in South Australia and is now based at Ocala in Florida.
Scott competed at the Seoul 1988 Olympics in Eventing and 28 years later represented Australia again at the Rio 2016 Olympics where he competed as a show jumper. After a break from the sport he renewed his involvement when he moved to Florida in 2009 where he enjoyed some great results on the USA circuit. Scott helped qualify Australia for a Team spot at Rio in 2015 and, riding his warmblood gelding Fedor, scored a significant victory over an international field in the City of Ocala Grand Prix in Florida in early 2016 before heading to his second Olympic games in 2016. In Rio he finished 13th in the team event and made the second round of the individual event.
James Paterson-Robinson – JPR to his mates – is a two-time Olympian (2012 and 2016), who has twice ridden at the World Championships (2010 and 2014) and the only Australian to have won two World Horse Young Horse Championships. James is looking forward to EQUITANA and sharing his passion while having a chance to be inspired by others. Never one to take any of it for granted, he now is keen to inspire the next generation of rising showjumping talent. He thrives on teaching. "It is very rewarding," says James, who with partner Sarah Duggan is about to have his first child early next year. "Sarah and I enjoy adding value to the lives of our students – who range from juniors through to World Cup level – and seeing their growth. We are just as passionate about seeing others succeed a we are about our own horses and careers."
Visit Scott Keach & James Paterson-Robinson at the following sessions
Details
Saturday November 12th
11:45 pm to 12:45 pm
Redbuck Arena (Demo Arena 3)
Jumping exercises to build confidence
Scott and James Paterson-Robinson will work with a number of young and novice horses using exercises to build the basis for a successful jumping career:  pole work, grids and work which ensures the horse is successful and builds confidence before increasing fence height.