A PRYDE'S EASIFEED VOLUNTEER
Being a Pryde's EasiFeed Volunteer at EQUITANA Melbourne is a fantastic opportunity to be involved in the many different aspects of the equine event as well as enjoy working with a great team and a wide range of equine industry experts and leaders.
As event organisers, we recognise that volunteers are a crucial part of the smooth running and success of the event. We appreciate everyone who is willing to be involved and support EQUITANA Melbourne 2022.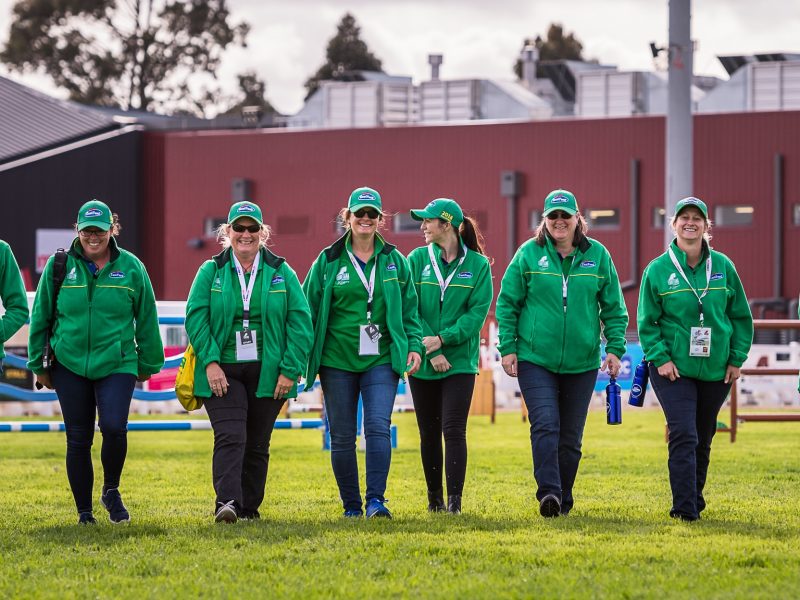 We will be seeking enthusiastic and passionate people to work at the event. With various jobs available from customer service to working within the stables there is sure to be a job for you! You will be able to indicate the area that you are most interested in on the application form.
You must be 16 years old to volunteer at EQUITANA Melbourne.
The choices are the following
Competition – assistance with competition set ups and running
Education – assistance with running of educational areas
Demonstration – assistance with the operation of demonstration arenas & customer service
Seating Usher – assistance with ushering for evening programs in Grand Pavilion Indoor Arena

Stables & Breed Village – assistance with general stable duties
Transfer Team – assistance with escorting horses and their handlers throughout venue
Floater – combination of all above mention duties

Customer Service – assist EQUITANA ticket holders with entry & any issues they may have